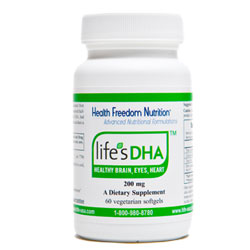 I love salmon and have always added high quality fish oil to my diet. I was really surprised when I tried Life's DHA. My mental focus improved as well as sense of well being. Since then I found that most fish contains more DHA than EPA and most supplements contain more EPA. DHA has been overlooked even though it is what the brain prefers and is superior for cognitive health.
I hope to offer a algae DHA/EPA product, but for now, adding this to your fish oil is a good first step.
Learn more at: https://nutristand.com/a-smarter-fish-oil/
The heart, brain and joint health benefits of omega 3 fish oils are widely accepted. Now those consuming a vegetarian diet can supplement their diet with life's DHA to assure adequate amounts of DHA, the most important omega 3 oil.
life'sDHA is a vegetarian source of DHA manufactured from algae. It's produced, from start to finish, in an FDA-inspected facility with controls in place to ensure the highest quality DHA. And because it is not from fish, it is ecologically sustainable and there is no risk of ocean-borne pollutants.
DHA (docosahexaenoic acid), an omega-3 fatty acid, is a major structural fatty acid in the brain and eyes, and a key component of the heart. DHA is the only omega-3 that has been shown to support brain, eye and heart health throughout every stage of life.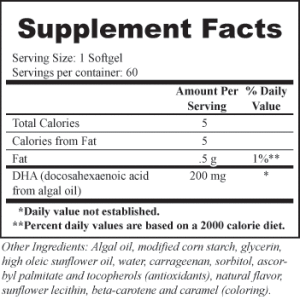 life'sDHA™ from algae is a vegetarian source of DHA. It's produced, from start to finish, in a FDA-inspected facility with controls in place to ensure the highest quality. life'sDHA™ comes from a source that has not been genetically modified. life'sDHA™ All-Vegetarian DHA Supplement is accepted by the FDA for use in U.S. infant formulas and is the only DHA currently used in U.S. infant formulas.
Q: What makes life's DHA unique?
A: The fact that life's DHA does not come from fish oil makes this product unique in the marketplace. Fish and fish oils are the most common sources of DHA. However, Martek has gone directly to the source and developed a process that extracts DHA from algae, the fish's original source. This yields a highly purified form of DHA (life'sDHA).
life'sDHA is from algae grown in fermentation tanks, not from fish, and therefore contains no ocean-borne contaminants. life'sDHA is used in dietary supplements, some functional foods and infant formula.
Q: Who should use life's DHA?
A: life's DHA can be used by anyone who wants the health benefits of DHA but doesn't get enough in their diet. Also, vegetarians who want a DHA product in a vegetarian softgel should consider life's DHA.
Click Here to Purchase at NutrStand.com
Note: life'sDHA™ is a trademark of Martek Biosciences Corporation.